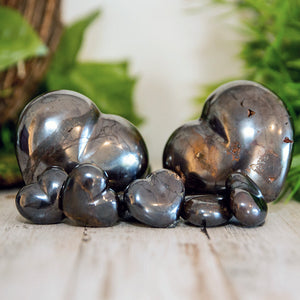 Hematite is a wonderful grounding stone. Solid Iron Ore, it is a heavy stone and feels amazing in your hand. Hematite builds the blood, the liver and reduces negativity. Hematite absorbs both negativity from you and from other people around you. 
Hematite is known to absorb EMF, 5G, 4G, high altitude radiation, wifi. Carry a Hematite in your purse or pocket, absorb EMF from your mobile before it reaches you. The 200g heart is a perfect size to clear a room of negativity.  
When ill, Hematite can absorb the "heat" that pathogens create within the body. During and after an illness or virus use the big heart-shaped Hematite directly on your skin. The low back of the neck is a great place to put it while lying down or sleeping. Other great locations on the body are on the waist while sleeping on your side, especially the right side or try it resting on the hip bone. Use Hematite for weeks after the virus subsides for residual symptoms, joint aches, headaches (low back of the neck) coughing (right side of waist).  
Our hand-carved Hematite hearts from Madagascar are all wonderfully unique. Each a bit different you will find our Hematite heart's nuances a tactile dream. 
Keep a Hematite with all your crystal minerals to keep them energized and charged. 

Instructions
Carry in a pocket, purse, or with other crystals. Sleep with a Hematite, a few inches away from you, near hip level. Place the 200g on a table or desk.
20g Stone or 200g Stone
We must share our disclaimer that we are not medical practitioners and cannot give medical advice. Crystals used for healing should only be used as a complement to other therapies and not as a replacement for regular medical care. ♥︎Ohm