Mineral Baths and Blends, Topical & K-9 Blends
Ohm's uniquely ground gems & minerals deliver micronutrients through the skin, providing nutrients to the entire body.
epiVibe®
Patented Process
"Our core belief: Absorbing minerals through the skin is the most perfect and efficient way to receive micronutrients into the system"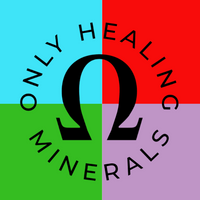 Science
Medical Geology, the link between geology and medicine, is the influence of the geologic balance of trace elements and the geographic distribution of health issues.
Hippocrates noted that absorbing essential nutrients through the skin and nasal passages provided optimum health for those living in high mineral-content regions.
Ohm's revolutionary philosophy of ancient healing wisdom brings ideal Medical Geology to all. Our creation of nano-sized particles of natural minerals in non-oral formats compensate for modern mineral depletion.
"We propose that processed and altered mineral supplements, with their individual element nutrients, significantly lose their ability to co-factor enzymes, encourage neuronal impulses and may impede nerve cell function ."  
Our 100% external therapeutics are practical processes for practitioners and patients alike. We focus on classical healing within the boundaries of modern lifestyles.
OHM, Only Healing Minerals. 
epiVibe® Patented Process

2023 IAACN Scientific Symposium
 "Mitigating Neurological and Mental Health Ailments with Clinical Nutrition" where we will glean clinical pearls to help our clients.