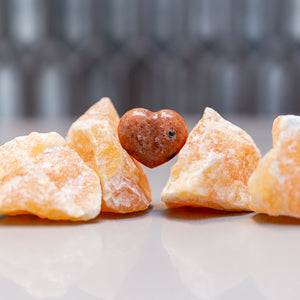 Orange Calcite Energy Rock, is a wonderfully vivid orange heart-shaped, crystal and is well known to help with Allergies and Allergic reactions. It is widely used to help with skin, eyes, and nasal allergies.  


Instructions
Carry all day in a pocket or sleep with at night for Allergies.
Junctions
Use AL❀R❀G with your Orange Calcite to build resistance to the things you are allergic too. 
Read more about Orange Calcite and Allergies
In order to keep your Energy Heart Rock at its maximum effectiveness, wash Heart under cold running water once a week and re-charge often on a bed of Hematite to increase the longevity of pulsation. We recommend Re-Charge.

Also try:  | K-9 Orange Calcite | Re-Charge 
We must share our disclaimer that we are not medical practitioners and cannot give medical advice. Crystals used for healing should only be used as a complement to other therapies and not as a replacement for regular medical care. ♥︎Ohm