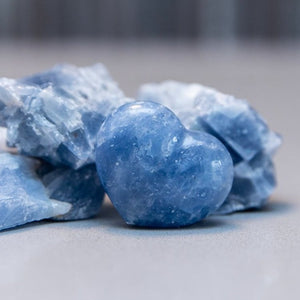 Blue Calcite has long been thought of as a very gentle stone that is a great introduction to the crystal world. Blue Calcite is very relaxing and helps you sleep. It has a very mild detoxification property and likes to be with other Blue stones at night. Curl up with one and see what happens. Re-Charge in the moonlight or on Hematite. 
Instructions
Sleep with at Night.
Sleep 
For sustained better sleep we recommend one of our
Ohm Mineral Bath
blends.  Our bath formulas may be used in Aloe to coat the body with healing minerals as if the body is immersed in a mineral bath. For all-over micronutrients, wellness and sleep try Pulse or Elements
✧
We must share our disclaimer that we are not medical practitioners and cannot give medical advice. Crystals used for healing should only be used as a complement to other therapies and not as a replacement for regular medical care.
♥︎
Ohm