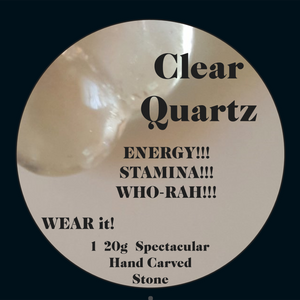 Clear Quartz is a great daily rock to carry. Just a great clean stone full of energy. It can keep you balanced and positive throughout the day. It helps ward off Jet Lag while traveling. It is a great stone to carry alone or with another crystal.

Instructions
Carry all day in a pocket alone or with other stones. 
In order to keep your Heart at maximum effectiveness, wash under cold running water once a week and re-charge it often on a bed of Hematite to increase the longevity of pulsation. We recommend Re-Charge. 


You may also enjoy:  |  Re-Charge
 We must share our disclaimer that we are not medical practitioners and cannot give medical advice. Crystals used for healing should only be used as a complement to other therapies and not as a replacement for regular medical care. ♥︎Ohm