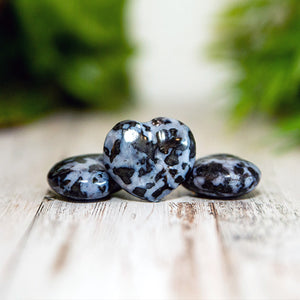 Indigo Gabbro, kind of a newcomer to the Crystal Scene, is worthy of many words! Indigo Gabbro encourages "Outside of the Box" thinking but keeps it in control also. It can reduce your temper and unblock areas in the body that are blocked. If you want a great creative Pop in your life, carry it with a Celestite or use POW! in the mornings. Or if you feel you need stamina and adventure carry it with an Ammonite. To boost all of this??? Carry them with a Herkimer Diamond which SUPER CHARGES them all!.

Instructions
Carry all day in a pocket alone or with Celestite, Ammonite, or a Herkimer Diamond.
In order to keep your Heart at maximum effectiveness, wash under cold running water once a week and re-charge often on a bed of Hematite to increase the longevity of pulsation. We recommend Re-Charge.
 

We must share our disclaimer that we are not medical practitioners and cannot give medical advice. Crystals used for healing should only be used as a complement to other therapies and not as a replacement for regular medical care. ♥︎Ohm