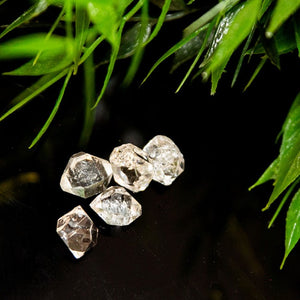 Herkimer Diamond Where to start about this one and only unique diamond? Herkimer Diamonds are clear double terminated Quartz crystals found only in Herkimer, NY. These Diamonds are uncommon and often hard to source. Ohm goes directly to the Herkimer Diamond Mines in Upstate, NY to handpick their stones.

The Herkimer Diamond is a unique supercharger and a solidifier. Alone it is an extremely powerful stone used day or night. As a companion stone, it energizes the effects of other minerals, accentuating their health benefits by amplifying their characteristics, especially the case with soft stones. 
To those who seek the Herkimer Diamond for healing energy, it solidifies the progress of healing preventing the "backslide" after accomplishing forward-moving health benefits. The Herkimer Diamond can be combined with most mineral crystals.

Instructions
Carry all day in a pocket all day or sleep with at night alone and with other stones. Herkimer Diamonds are very strong we recommend starting with a small one in the beginning, then progressing to a larger one.  
In order to keep your stone at maximum effectiveness, wash under cold running water once a week and store it on a bed of Hematite or with a hematite rock to clear it. We recommend Re-Charge.
More on Herkimer Diamond

You may also enjoy: |  |  Re-Charge
We must share our disclaimer that we are not medical practitioners and cannot give medical advice. Crystals used for healing should only be used as a complement to other therapies and not as a replacement for regular medical care. ♥︎Ohm