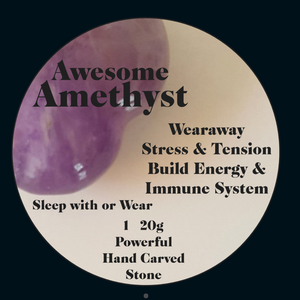 Amethyst is such a fantastic mineral crystal. Not only is it beautiful it gives us so much. One attribute, Amethyst strengthens the lungs. The lungs strengthen the immune system.  All quartz variations, including Amethyst, amplify good health, including the immune system.   
Amethyst lowers stress levels as we take in a strong healthy breath. It relaxes us while we carry it during the day and while we sleep with it at night. 

Instructions

Carry all day in a pocket (small 90g) alone or with other crystals, sleep with at night.
For lung illness, a lung virus, or asthma, place a large amethyst on your chest to strengthen the lungs. 
After+Boost , a targeted mineral topical powder may also help strengthen the lungs after a lung virus.  
Ruth recently wrote an article on TCM + Lung Health published on YogiApproved.com. The article is a quick read with lots of lung healing information. 
In order to keep your Energy Rock Heart at maximum effectiveness, wash it under cold running water once a week and re-charge it often on a bed of Hematite to increase the longevity and vibration. We recommend Ohm's Re-Charge


We must share our disclaimer that we are not medical practitioners and cannot give medical advice. Crystals used for healing should only be used as a complement to other therapies and not as a replacement for regular medical care. ♥︎Ohm